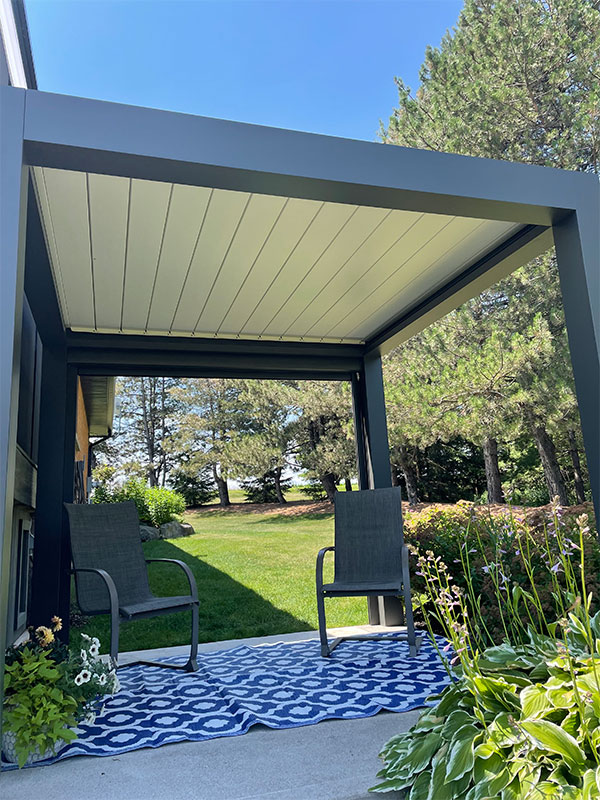 Custom Fit
Aluminum Pergolas are custom fitted to any outdoor environment. They can be free standing, attached to an existing structure and cover as much area as needed. Our team is ready to work together with you to make your vision a reality, and to give you the most enjoyment out of your outdoor space.
Sunshade that protected from different weather conditions.
The product is made of strong material that withstands Canadian wind and snow load.
The louvered system is easily adjustable with the turn of a handle or push of a button.
The product doesn't require maintenance and will last for years to come.
The newest outdoor trend in Canada.
How it Works
When closed shut, our louvered roof system prevents water and sunlight from passing through, keeping the covered area dry and free from direct sunlight.
Aluminum Pergolas are all season ready, featuring a strong structural integrity that is able to withstand 160 km/h winds and louvers that can hold up to 65 lbs of pressure per square-foot.
Highly efficient and modern screening technology.
Maximum reduction of solar penetration.
High resistance to wind.
Insect protection in closed position.
Protection against different weather elements.
Enhanced privacy.